My Story
I have enjoyed sewing (and many other crafts) for as many years as I can remember. I began making quilts about fifteen years ago, but there are only so many quilts a girl can make! I turned to bag making as it was a cheaper hobby. One day I saw a pattern in a magazine for a bag made from old jeans. I made two of these from jeans purchased from charity shops for my then teenage daughters.
I first heard about the workstarted by
Debbie Scott in Utange
through a friend, Jane, who knew Debbie through church. Jane and her husband Paul went out to help complete stages one and two of the building of the orphanage, Casuarina House,, and Jane shared her experiences and showed me photos of what she had been doing.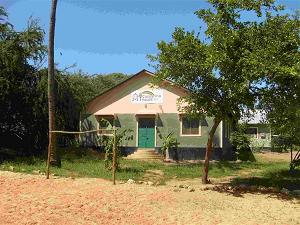 Casuarina House
One year I gave
Jane a bag for Christmas. It was one of the bags I had made from denim. She loved it. On a whim, I said that I had several more which I had made and not sold, and did she think Debbie would like them to raise money for Utange. Debbie was initially dubious but they sold really well - so I made more.
Eventually I went to run a stall - for the first time in this guise. I was terrified. It went really well, and I ran a couple more in that year. My bags became more complex, more varied. I included other items. More and more people donated jeans. I bought a very simple, single needle embroidery machine. I used it to make t-shirts for the children of Casuarina House, with the charity logo embroidered on it.
The children in their t-shirts
Before Christmas 2014 Christmas Debbie asked me if I would make some bags for the children with their names on, and also some new t-shirts, for their Christmas presents. I agreed - and began what turned out to be a momentous task. God used this task to bless me further.
I found that each embroidered bag square (with a child's name and the charity logo) was taking me two hours to complete on my single needle embroidery machine, and I was beginning to fear that I would be unable to complete this within the time scale I had been given. I mentioned this at Church, and it was suggested that I talk to Jamie, who ran a business which included custom embroidery. As I barely knew Jamie this seemed cheeky to say the least, but I took my courage in my hands and asked him one morning whether, if I provided the threads, fabric and patterns, he would be able to run the designs through his machines. His reply astounded me - he agreed that he could, but said he had a better idea. He had a 6 needle machine sitting in his store which was no longer being used - would I like to make use of it. Would I?! Thanks to the machine, I was able to finish the bags in time to get them to the children for Christmas.
A treasured photo
It has transformed what I have been able to make. What a blessing. Further blessings followed when the machine stopped working; friends and church members stepped in to pay for servicing, and this servicing was enough to make the machine function reliably again.
I was asked several times when selling whether I had been out to Kenya to visit the project, but had to explain that, as the trips took place in term time, and were fairly expensive, this was unlikely to be an option for me until I stopped teaching. Then God stepped in. Through an amazing opportunity, I was able to go out to Utange in January 2011. I met the children. I visited the school. I set up a link between our school and Utange Baptist Primary.
I heard about funding from the British Council for school links, which would enable a teacher from our school to visit Utange and a teacher from Utange to visit us in Henlow. I applied and was successful, and in March 2013 Pastor John Kahindi visited us.
In October 2013 two teachers from our school visited Utange.
In 2012 I stepped up the number of events I attended. I did so again in 2013. In 2014 I attended larger events - but fewer of them! Some people have stepped forward to help make bags, and some have come forward to help sell them. All help is very gratefully received. In 2015 I attended fewer, larger events, aiming for one each month (though actually it was often two or more!) I also decided to take a break from selling between January and March - a habit I am continuing. 2016 looks set to provide a record level of sales.
I had a thought when I first visited Kenya that I would like to teach some of the women there to make bags from old jeans. This was particularly brought to the forefront when I met a lady, one of my trips round the village, who bought old clothes from a second hand marked in Mombasa and repaired them to sell to local people. God has grown this thought into a much larger project. In 2016 (when my daughters will have finished their undergraduate studies) I intend to return to Utange to help groups of women to set up co-operative businesses. From 2014 half of my fundraising income will be kept separately by The Sure Foundation so that when I return I can provide start-up grants to buy equipment and resources needed for these women to start up their own businesses. Women are, I feel, a significant focus for my work. There are very few jobs in Utange, and even fewer for women. In an effort to find enough money to feed their children, many of these women turn to prostitution. This has been one of the major causes of the spread of AIDS in the locality, and the spread of AIDS has led to many children being left orphaned. If the cycle can be broken by providing women with occupations and hope, then lives can, I believe, be changed.
One major aspect which I began in 2015 and am continuing is distributing solar lamps through schools. Many villagers still rely on kerosene lamps - dangerous, unhealthy and expensive. I found that SolarAid has a project to supply solar lighting in Kenya as an alternative to kerosene. I ordered these from Sunny Money (the trading arm of Solar Aid) and, in 2015, sent 40 lamps, ten each to four schools. At each school, five were for teachers and five for the pupils who had made the most improvement over the year. In 2016 I supplied to the same four schools (Noah's Ark Academy,
St Peter the Rock
, Utange Primary and Utange Baptist Primary) and two new ones (
Mikoroshoni Primary
and Zimlat Primary).
In August 2016 I am spending a month in Kenya, hoping to work with women in Utange to develop their own businesses.
The most amazing thing to me is that God has used me in this. Three years ago I would not have believed it could be possible that God could use me - let alone that I would be considering this type of project. He has blessed me so much in this - I have received so much more than I could ever give.
My projects so far
In July 2015 I ordered my first shipment of solar lamps for Utange. I bought them through Sunny Money, which is the trading arm of Solar Aid. I decided that my approach is going to be to supply each school in Utange which I have any contact with, with ten solar lamps annually. Of those ten, five are for teachers and five for pupils. Once all teachers at a school have been given a lamp, all the lamps are for pupils.
Each lamp has a phone charging point. My reasoning is that this will allow families to study or work in the evenings, but also to potentially earn a little money by charging mobile phones for others. There are many in the village who own mobile phones, but to charge them they have to travel to a show which offers recharging facilities.
Forty lamps were bought on this first occasion. They were safely delivered from Nairobi to Mombasa and collected by Pastor John.
Teachers from two of the receiving schools came to collect them.
One set of lamps was distributed to Utange Baptist Primary School.
A second went to St Peter the Rock school, which teaches able bodied and physically and mentally disabled youngsters alongside each other.
A third set was distributed at Noah's Ark Academy, which teaches 3-8 year olds.
The fourth set went to Utange Primary School, the state school in the village.